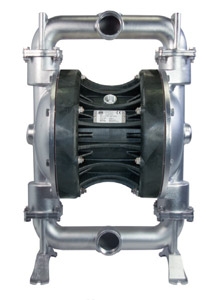 L9 High Capacity Pneumatic Diaphragm Pump - 650 L/min
£ 3289.00
Benefits
Use in ex-proof hazardous areas (Atex Zones 1 & 2 certification)
Dry operation and self-priming
Stall prevention pneumatic circuit
Adjustable flow rate and head
Fine tuning of motor speed at constant pressure
Three suction and delivery positions
Operating Temperatures
Aluminium: 3-95 Celsius
Stainless Steel 3-95 Celsius

Areas of application: -
Chemical, textile
Foodstuffs, ecology
Graphic Arts
Tanning
Ceramics
Electronics
Galvanic
Oil, Petrochemical
Paints
Pumping Urea
Technical specification: -

Pump material: Aluminium or Stainless Steel
Intake/delivery connections: G 2" F or DN 50*
Air connection: G 1/2" F
Max. self-priming capacity**: 6 M
Max. flow rate: 650 Litre/Minute
Max. head: 70 M
Max. Air Supply Pressure: 7 BAR
Max. diameter of passing solids: 8 mm

** This depends on the configuration of the pump, *available with clamp, DIN or NPT connections on request.
FOR DIFFERENT INTAKE/DELIVERY CONNECTION PLEASE LEAVE A COMMENT AT CHECKOUT.
ACCESSORIES FOR THIS PUMP ARE AVAILABLE PLEASE CONTACT US